Roadmap:
 Chips on inorganic support
Atom Tech chips (1st Generation): Post to post and UHV case (2012 – 2025)
Atom Tech chips (2nd Generation): All-in-one micro cleanroom (2020 – 2030)
"Sustainable development" organic chips
Atom Tech Chips (3rd Generation): Molecule-circuit by genetic engineering (2025-2035)
Atom Tech chips (4th Generation): Genetically engineered carrier and circuit molecule (2030 – 2040)
Atom Tech chips (5th Generation): Biocompatibility Key, Carrier and Genetically Engineered Circuit Molecule (>2040)
Detailed description of a functional process: 1st generation Atom Tech chips
This "peer-to-peer" process with a UHV suitcase for transfer between stations concerns the development of 1st generation Atom Tech chips (2012 – 2025) – As started in C. Joachim's "Atom Tech" group at IMRE, A*Star (Singapore) and with the European AtMol Project.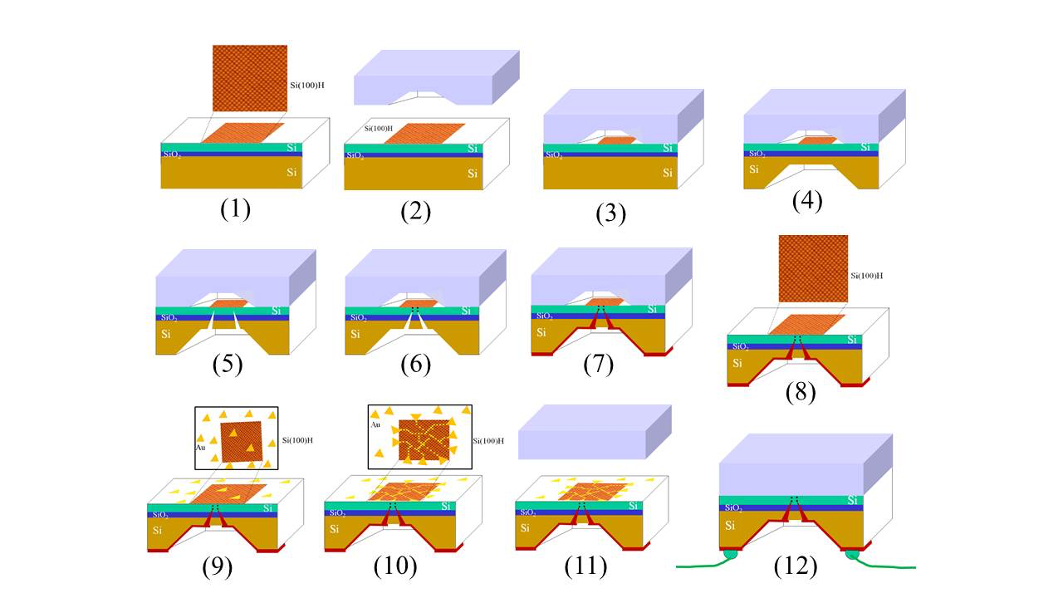 « Advances in Atom and single Molecule-Machines » Vol. 7, Fig. 2, p. 113 (2015)
Station 1: Front side preparation of the substrate by Molecular Beam Epitaxy (MBE) and STM imaging (Appl. Surf. Sci., 288, 83 (2014), AIP Adv. 5, 067108 (2015), Phys. Rev. B, 97, 081302(R) (2018))
MBE in DUF     

LT-UHV STM/Qplus
Station 2: Manufacture of the front cover by Reactive Ion Etching (RIE)
RIE
Station 3: Encapsulation in UHV
(N° WO 2009/022982 19 February 2009, Int. Patent classification: H01L 21/768 (2006.01) B82B 3/00 (2006.01), US patent: US2011/0018138A1)
Station 4: Backside engraving by RIE to free the front-rear passage by the "Via" technique
J. Vac. Sci. Tech. B, 28, 978 (2010)
Stations 5 to 7: Backside contacts by Focused Ion Beam (FIB) and decomposition of organo-metals
J. Vac. Sci. Tech. B, 28, 978 (2010)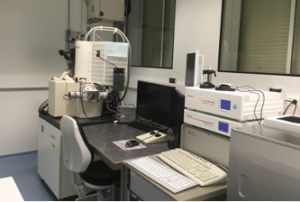 FIR
Station 8: Verification of the surface by LT-UHV-STM imaging and localisation of the emergence of the "Via".
LT-UHV STM/Qplus
Station 9: Metal contact nano-pads by UHV deposition
J. Vac. Sci. Tech. B., 28, 484 (2010)
DUS
Station 10: Construction and testing (front side) of the atomic or molecular circuit by LT-UHV-4-STM Appl. Surf. Sci., 288, 83 (2014)
LT-UHV 4-STM
Station 11: UHV encapsulation in the LT-UHV 4-STM printing chamber
Station 12: Final electrical test outside UHV
J. Vac. Sci. Tech. B, 28, 978 (2010)
And in the near future?
The technological challenge is to switch the entire process to our integrated DUF (Dynamo UHV Factory) micro clean room in order to achieve the 2nd generation of Atome Tech chips, with the entire process taking place under UHV.
What next?
Progressive transition of each station and stage of nano-fabrication to renewable processes and materials (Techno-cyclable with their biocompatibility key).
"Give me the genes of a computer and I will program you a bacterium to bio-fabricate it and another bacterium to bio-decompose it molecule by molecule"
Inspired by:
K. Ulmer
Proceeding of the Molecular electronic Device Workshop
March 1981, Washington DC 23-24
Library of Congress ref. 12484,
Naval Research Lab ref. MR 4462
Les Bio-Transistors, La microélectronique du XXI siècle
J. De Rosnay,
La Recherche, 12, 870 (1981)
« Computers and the Environment »
R. Kuehr & E. Williams (Eds)
Kluwer Academic Publishers (2003)
« Nanosciences : la révolution invisible » p. 13
C. Joachim & L. Plévert
Editions du Seuil (2008)
« Radical Abundance »
K.E. Drexler
Published by PublicAffairs (Perseus Books Groups) (2013)