Researchers: Christian Joachim (DR CNRS), Jacques Bonvoisin (CR CNRS), Xavier Bouju (DR CNRS), Olivier Guillermet (MCF UPS),
Goal: Making a single molecule calculate
Since the beginning of molecular electronics 50 years ago, the scientific challenge has been to make a single molecule calculate by asking it, for example, to add two binary words of two digits each. The aim is then to measure the computing power of the molecule for a given energy consumption. The technological problems associated with this challenge are presented in Physical and Chemical Tools.
1) Molecular wires
In a traditional approach to molecular electronics, one must use molecular wires, i.e. very long conjugated molecules with the smallest possible van der Waals cross-section capable of electronically connecting the active elements of an intramolecular electronic circuit. The conductance G of a molecular wire is defined only when it is brought into moderate electronic interaction with two metallic nanopads at each end. Independently of this semi-classical mono-molecular electronics, several major challenges have been addressed by GNS for the physical chemistry of molecular wires:
(a) The quantum engineering challenge. This involves optimising the electronic structure of the molecular wire so that at low bias voltage of the metal-molecule-metal nano-junction, the decay rate  of the conductance G of the molecular wire with length L is as small as possible.
Variation of the decay rate as a function of the product "gap x effective mass" of the tunneling electron for the different chemical structures of molecular wires shown on the right and measured experimentally.
The best current molecular wires have an energy gap  between the electronic ground state So and its first excited state S1 of the order of one eV, and a fine optimisation has made it possible to achieve decay rates lower than 0.02 nm-1. GNS thus approaches the hypothetical supra-tunnel effect: a tunneling effect without decay even when the length of the molecular wire increases and this without reaching the electronic states So and S1, thus remaining at a very low bias voltage of the order of 10 mv to 100 mV. This would also avoid the breakdown effects of the nano-junction at higher voltages.
Minimal attenuation for tunneling through a molecular wire
M. Magoga, C. Joachim, Phys. Rev. B, 57, 1820 (1998)
Electron effective mass when tunnelling through a molecular wire
C. Joachim, M. Magoga, Chem. Phys., 281, 347 (2002)
Decay of the molecular wire conductance with length: the role of spectral rigidity
A.Lahmidi, C. Joachim, Chem. Phys. Lett., 381, 335 (2003)
Molecular wires: guiding the super-exchange interaction between 2 electrodes
C.Joachim, M. Ratner, Nanotechnology, 15, 1065 (2004)
Molecular Electronics: Some views on transport, junctions and beyond.
C. Joachim, M. Ratner, PNAS, 102, 8801 (2005)
Hole-Electron Quantum Tunnelling Interferences through a Molecular Junction
M. Portais, C. Joachim, Chem. Phys. Lett., 592, 272 (2014)
Conductance of a single flexible molecular wire composed of alternating Donor and Acceptor units
C.Nacci, F. Ample, D. Bleger, S. Hecht, C. Joachim, L. Grill, Nature Comm., 6, 7397 (2015)
Single and Double Valence Configuration Interactions for recovering the exponential
decay law while tunneling through a molecular wire.
M. Portais, M. Hliwa, C. Joachim, Nanotechnology, 27, 034002 (2016)

Contact Conductance of a graphene nanoribbon with its graphene nanoelectrodes
S. Srivastava, H. Kino, C. Joachim, Nanoscale, 8, 9265 (2016)
(b) The challenge of chemically synthesising long molecular wires initially in solution and then by synthesis on a metal surface and then on the surface of a large gap insulator. Starting with short synthons well synthesised in solution and of extreme purity, surface synthesis first made it possible to reach conjugated molecule lengths inaccessible in solution, as with the series of oligo-acenes and then graphene nanoribbons, before exploring oligomers with a more complex donor-acceptor-donor alternating structure.
Illustration of the synthesis scheme of a long aceno-acene
Tuning the conductance of a molecular wire by the interplay of Donor and Acceptor units.
D. Skidin, T Erdemann, S. Nikipar, F. Eisenhut, J. Kruger, F. Gunther, S. Gemming, A. Kiriy, B. Voit, D.A. Ryndyk, C. Joachim, F. Moresco, G. Cuniberti
Nanoscale, 10, 17131 (2018)
Synthesis and Absorption Properties of Long Acenoacenes
A. Jancarik, D. Mildner, Y. Nagata, M. Banasiewicz, J. Olas, B. Kozankiewicz, J. Holec, A. Gourdon. Chem.-Eur. J., 27, 12388-12394 (2021)
Preparative-scale synthesis of nonacene
Andrej Jančařík, Jan Holec, Yuuya Nagata, Michal Šámal, André Gourdon
Nature Comm. https://rdcu.be/cELtZ (2022)
(c) The challenge of measuring the G-conductance of a single molecule with pico-metric accuracy. The starting point for GNS was first electronic nano-lithography (see Chemical and Physical Tools) and then the broken junction technique. These approaches are not clean enough at the atomic level and have been progressively abandoned by GNS in order to reduce the challenge of nano-fabrication of a metal-molecule-metal nano-junction to a problem of Surface Science to be practiced in ultra-high vacuum. GNS has explored all the ways to bring the orbitals of the last metal atom of the STM tip to reach the molecular orbitals of the molecular wire with a precision better than 10 pm: approaching the tip vertically to the molecule (1995), laterally (2003) or on the contrary retracting it by lifting one of the two ends of the molecule from the surface (2009).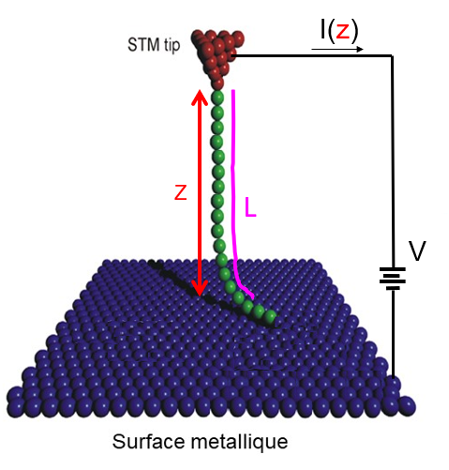 Example of the measurement of the conductance of a long molecular wire as a function of its length L using the pulling technique at very low temperature and in ultra-high vacuum, catching the molecular wire by one end, retracting the tip by a distance Z. The other end remaining on the surface gradually slides off while being detached from the surface unit by unit.
GNS has now switched to 2 STM tips on its LT-UHV 4-STM whose atomic apex to atomic apex distance can be reduced to 60 nm on average and 30 nm in the best cases (2020) with an uncertainty of the order of a nanometre. In parallel, GNS continues to develop a fully planar technology by pushing the via technology towards a UHV quality of the front surface (see Chemical and Physical Tools)
The Electronic Transparency of a Single C60 Molecule.
C. Joachim, J. Gimzewski, R.R. Schlittler, C. Chavy
Phys. Rev. Lett., 74, 2102 (1995)
Electron transport through a metal-molecule-metal junction.
C. Kerguelis, J.P. Bourgoin, J.P. Pallacin, D. Esteve, C. Urbina, M. Magoga, C. Joachim
Phys. Rev. B, 59, 12505 (1999)
Probing the Probing the different stages in contacting a single molecular wire.
F. Morecsco, L. Gross, M. Alemani, K.H. Rieder, H. Tang, A. Gourdon and C. Joachim
Phys. Rev. Lett., 91, 036601 (2003)
The conductance of a single conjugated polymer as a continuous function of its length.
L. Lafferentz, F. Ample, H. Yu, S. Hecht, C. Joachim, L. Grill, Science, 323, 1193 (2009)
Conductance of a single narrow graphene nanoribbon at different electron energy
M. Koch, F. Ample, C. Joachim, L. Grill, Nature Nano., 7, 713 (2012)
Imaging Single atom contact and single Atom manipulation at Low Temperature using
the new ScientaOmicron LT-UHV 4 STM.
J. Yang, D. Sordes, M. Kolmer, D. Martrou, C. Joachim, Eur. Phys. J. AP, 73, 10702 (2016)
For GNS, the major scientific challenge here is to master the intramolecular quantum behaviours and to understand the classical-quantum and quantum-classical conversions in order to determine the best architecture for designing, synthesising and then operating computational molecules one by one. One can choose:
(1) To stick to a classical electronic circuit architecture where each molecule would have either the role of a switch, a diode or a transistor, then to interconnect them by conductive wires with the smallest possible cross-section so that the circuit thus constructed calculates digitally for example,
(2) To integrate all these elementary functions in one and the same large molecule with chemical groups "molecular wire" to cascade them and form the intramolecular electronic circuit which calculates. In GNS, the best molecular wires are developed here, for example in search of the chemical structure of a true molecular quantum bus or the supra-tunnel effect in a more traditional approach,
(3) To design molecules carrying several qubits. It is then arranged that quantum information can be exchanged between these qubits as with the GNS-SWAP molecule,
(4) To abandon the concept of superposition in real space of these elementary components such as switches, diodes, transistors, qubits and molecular wires. In Hilbert space, GNS is looking for another way to superimpose the quantum states of a molecule in order to perform a complex binary calculation. This is called computational electronic states and there is no need to divide a molecule into qubits for this. This is the QHC approach for "Hamiltonian Quantum Computing".
Electronics using Hybrid- Molecular and Mono- Molecular Devices,
C. Joachim, J.K. Gimzewski, A. Aviram, Nature, 408, 541 (2000)
Bonding more atoms together for a single molecule to compute,
C. Joachim, Nanotechnology, 13, R1 (2002)
Quantum Design rules for single molecule logic gates
N. Renaud, M. Hliwa, C. Joachim, Phys. Chem. Chem. Phys., 13, 14404 (2011)
For (1), this is hybrid molecular electronics where GNS has studied a large number of switch molecules i.e. whose G conductance can be modified by applying an external stimulus directly to the molecule: compression of the molecule by pressing on it with the tip of the STM, application of an electric field, increase of the tunnel current or chemical reduction of the molecule to trigger a stable conformational change on the support surface as shown below with 2 Cudbm2 molecules Most often the conductance under the STM tip varies by several orders of magnitude as in the transition from (a) to (b) for the Cu-dbm2 molecule on the right in the figure below.
Succession of STM images showing the reversible switching of two Cudbm2 molecules using the microscope tip. These are two Bis-dibenzoylmethanato-Cu molecules in the square planar conformation [Cu(II)dbm2](0) (STM image (a)) then one in the tetrahedral conformation [Cu(I)dbm2](-1) after its reduction and the other still in the square planar conformation (STM image (b)).
In order to build a Boolean logic function with these switches, they must each be connected to at least 2 conductive nano-electrodes which are themselves interconnected on an insulating flat surface by very short conductive wires with the smallest possible cross-section (see Chemical and Physical Tools). As shown below with the 2 C60 amplifiers (blue circle) mounted in "saturated-blocked", GNS has demonstrated that a simple logic function like the NOR gate can be constructed. This is a relatively modest miniaturisation compared to the miniaturisation of modern semiconductor transistors. These switch-molecules are relevant for example to explore the kTLog2 switching energy limit predicted by R. Landauer for a stable two-state switch when its support surface is maintained at a temperature T.
NOR logic gate designed with 2 amplifiers (blue) each using a single C60 molecule and interconnected by conductor wires of the smallest possible cross-section with a minimum length of about 10 nm for a metal wire and for an operating temperature at ambient.
An electromechanical amplifier using a single molecule.
C. Joachim, J.K. Gimzewski, Chem. Phys. Lett., 265, 353 (1997).
Physical Principles of the single C60 transistor effect.
C. Joachim, J.K. Gimzewski, H. Tang
Phys. Rev. B, 58, 16407 (1998)
Logic gates and memory cells based on single C60 electromechanical transistor.
S. Ami, C. Joachim, Nanotechnology, 12, 44 (2001)
Controlling the Charge State of a Single Redox Molecular Switch
T. Leoni, O. Guillermet, H. Walch, V. Langlais, A. Scheuermann, J. Bonvoisin, S. Gauthier
Phys. Rev. Lett. 106, 216103 (2011)
Mechanical conformation switching of a single pentacene molecule on Si(100)-2×1.
O.A. Neucheva, F. Ample, C. Joachim, J. Phys. Chem. C, 49, 117 (2013).
For (2), this is semi-classical single-molecule electronics. In this case, a circuit molecule is designed as an electron scientist would by chemically linking active molecular groups (molecular diode, molecular switch and possibly molecular transistors) in a single molecule using molecular wire groups. The example below is an intramolecular circuit using in a single molecule 2 molecular diode groups (left) and various molecular wires. This molecule functions as a Boolean AND logic gate with 2 inputs and 1 output.
Exemple de la structure chimique d'une molécule-circuit AND structurée autour de 2 diodes moléculaire. Cette fonction AND demande 4 nano-plots métallique (extrémité atomique indiquée en vert) (Chem. Phys. Lett.,367, 662 (2003)).
This approach has been progressively abandoned by GNS since, in order to preserve the functionality of each functional molecular grouping, it is imperative to chemically link them by saturated bonds which limits the operating current to a few pA even for the simple AND gate given above. Moreover, there is no power gain possible inside such a molecule-circuit except to take the logic signal out of the molecule by connecting one or more metal nanopads at the right place.
Towards circuitry in a tunnel barrier
M. Magoga, C. Joachim, Phys. Rev. B, 59, 16011 (1999)
Intramolecular circuits connected to N electrodes
S. Ami, C. Joachim, Phys. Rev. B, 65, 155419 (2002)
Molecular "OR" and "AND" logic gates integrated in a single molecule
S. Ami, M. Hliwa, C. Joachim, Chem. Phys. Lett., 367, 662 (2003)
A Semi-classical XOR Logic gate integrated in a single molecule
N. Jlidat, M. Hliwa, C. Joachim, Chem. Phys. Lett., 451, 270 (2008)
A molecule OR logic gate with no molecular rectifier
N. Jildat, M. Hliwa, C. Joachim, Chem. Phys. Lett., 470, 275 (2009)
For (3), the aim is to bring molecular electronics into the realm of quantum computing with qubits arranged in the right place within the same molecular structure. Based on the experience of GNS in the field of molecular magnetism and mixed valence complexes, the chemical structure of a SWAP molecule has been proposed. As presented below, it is a low-spin paramagnetic organometallic complex with four centres. The magnetic super-exchange interaction between the 2 intramolecular qubits located on M1 and M2 depends on the oxidation state of the third intermediate M3 centre, which is itself controlled by a gap electron transfer process between the M3 and M4 sites.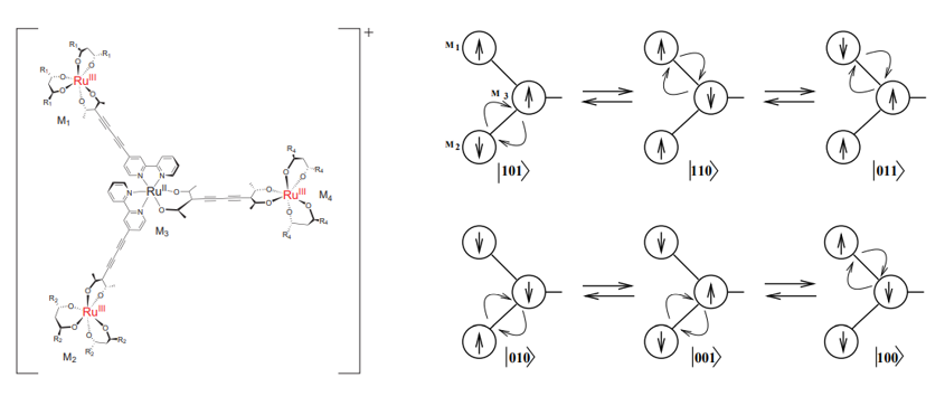 Structure of the 3-qubit SWAP molecule (left) proposed by the GNS group and its operating principle (right).
A model system was constructed using spin-intricate qubits in the framework of a Heisenberg-Dirac-Van Vleck spin Hamiltonian demonstrating the efficient exchange operation of this complex. GNS has demonstrated that this 4-centre molecule functions as a SWAP logic gate of controlled quantum exchange.
A controlled Quantum SWAP logic gate in a 4-Center metal complex
M. Hliwa, J. Bonvoisin and C.Joachim
In "Architecture & Design of Molecule Logic Gates and Atom Circuits"
Springer Series: Advances in Atom and Single Molecule Machines:
Vol. II, p. 237 (2013), ISBN 978-3-642-33136-7
For (4), it is about single-molecule quantum electronics. With its QHC approach, GNS is able to generate quantum graphs realising all the 2-in-1-out logic gates without qubits, most of which have now been verified experimentally with starphene-type molecules.
Example of the chemical structure of a first generation QHC Boolean logic gate molecule with these 2 mechanical inputs (Chem. Phys. Lett, 452, 269 (2008)).
The second generation QHC logic gate invented by GNS avoided the need to pass the readout current through the entire molecular structure as was the case with the first generation shown above. The measurement of the logic output then becomes local. Starting from the simplest QHC quantum graph given on the left below with 3 computational states, GNS managed to build more complex graphs circled in red below with on the top right the graph that gave rise to QHC circuits etched atom by atom on the surface of Si(100)H and on the bottom right the QHC graph of an implantable ½ adder gate in a graphene sheet.
Starting from the universal QHC graph with 3 quantum states and 2 read states the different second generation QHC quantum graphs leading to the ½ binary adder.
GNS has experimentally demonstrated that a single well-designed molecule using intramolecular magnetic effects is a binary 3-input-2-output QHC adder. This is the most complex digital function ever embedded in a single molecule (see Figure above). In a conventional architecture, 14 switches or transistors would be required. In a traditional quantum computer, 4 qubits would be required to obtain the same Boolean function.
The molecular structure of the 1,8,9,16,17,24-hexaazatrianthracene molecule used and the position of its 3 single-atom Al logic inputs. Four LT-UHV STM dI/dV maps are presented. They were recorded at maximum tunnel resonance |So> for the 4 particular logic input configurations shown. The results of the logic calculation performed by this QHC molecule logic gate are measured by positioning the apex of one of the tips of my LT-UHV 4-STM on the central phenyl (red cross): the sum is tracked at +10 mV (the Kondo resonance) and the restraint at -750 mV (see hal-03412802v1 for more details) Each Al atom can be manipulated independently by the apex of the STM tip in a repulsive or attractive mode of manipulation on the Au(111) surface used for this experiment.
GNS now seeks to determine the molecular structure of a full adder of 2 binary words of 2 digits each and thus to understand the rules for climbing in complexity in Hilbert space without cascading elementary QHC gates.
A quantum digital half adder inside a single molecule
I. Duchemin, C. Joachim, Chem. Phys. Lett., 406, 167 (2005)
An intramolecular digital ½ adder with a tunneling current drive and reads out
I. Duchemin, N. Renaud, C. Joachim, Chem. Phys. Lett., 452, 269 (2008)
The design and stability of NOR and NAND logic gates constructed with only 3 quantum states.
N. Renaud, C. Joachim, Phys. Rev. A, 78, 062316 (2008)
Manipulating molecular quantum states with classical metal atom inputs : demonstration of a single molecule NOR logic gate.
W.H. Soe, X. Manzano, N. Renaud, P. De Mandoza, A. De Sarkar, F. Ample, M. M.Hliwa,
A.M. Echevaren, N. Chandrasekhar, C. Joachim, ACS Nano, 5 ,1436 (2011)
Realization of a Quantum Hamiltonian Computing Boolean logic gate on the Si(001):H surface.
M. Kolmer, R. Zuzak, S. Godlewski, M. Szymonski, G. Dridi, C. Joachim
Nanoscale, 7, 12325 (2015)
The Mathematics of a QHC ½ adder Boolean Logic Gate.
G. Dridi, R. Julien, M. Hliwa, C. Joachim, Nanotechnology, 26, 344003 (2015)
Quantum Half-Adder Boolean Logic Gate with a Nano-Graphene molecule and
Graphene electrodes.
S. Srivastava, H. Kino, C. Joachim, Chem. Phys. Lett., 667, 301 (2017)
Qubits and Quantum Hamiltonian Computing Performances for Operating Digital Boolean 1/2–adder.
G. Dridi, O. Faizy, C. Joachim, Quantum Science and Technology, 3, 025005 (2018).
Unimolecular NAND logic gate with classical input by single Au atoms.
D. Skidin,O. Faizy, J. Krüger, F. Eisenhut, A. Jancarik, K.H Nguyen, G. Cuniberti, A. Gourdon, F. Moresco, C. Joachim, ACS Nano, 12, 1139 (2018)
Quantum Hamiltonian Computing protocols for molecular electronics Boolean logic gates
O. Faizy, O. Giraud, B. Georgeot, C. Joachim, Quantum Science & Technology, 4, 035009 (2019)
A Tetrabenzophenazine Low Voltage Single Molecule XOR Quantum Hamiltonian Logic Gate
W.H. Soe, C. Manzano, C. Joachim, Chem. Phys. Lett., 478, 137388 (2020)
A Single Molecule Full Digital Adder
W.H. Soe, P. de Mendoza, A.M. Echavarren,, C.Joachim, J. Phys. Chem. Lett, 12, 8528–8532 (2021)